Five Days on Prince Edward Island – Day 3
Five Days on Prince Edward Island – Day 3
This is day 3 of my trip to Prince Edward Island. Click here to read about Day 1 and Day 2. Today I'll be driving counterclockwise on Points East Coastal Drive. Points East Coastal Drive is 475 kilometers (295 miles) of roads that meander along coastal roadways, through unique harbors and over rolling hills with picturesque farmland views. There are endless opportunities to stop, explore, take in the fresh air and enjoy the serene beauty. (Source: Tourism PEI)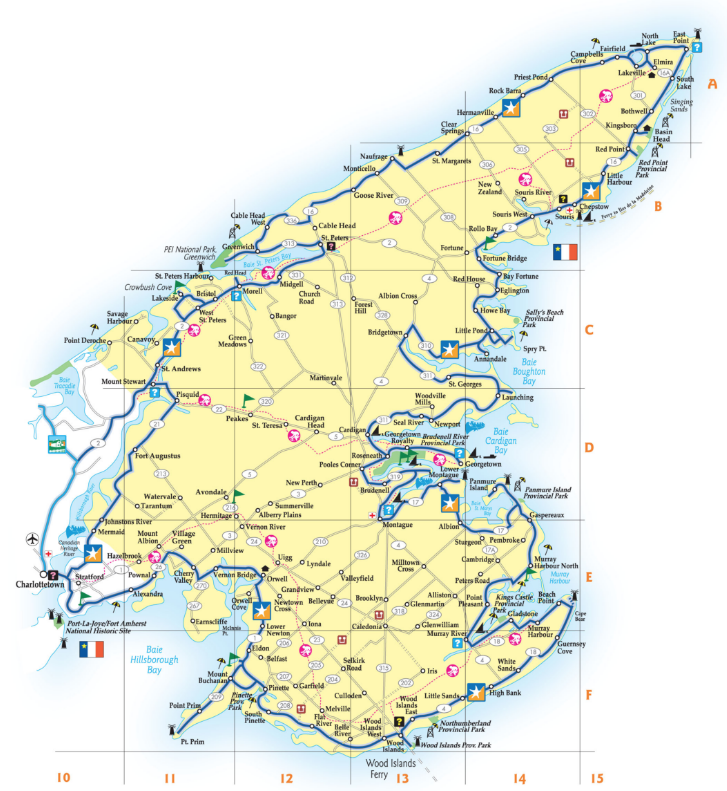 Day 3
I woke with the sun, made coffee and hiked on Cavendish Beach Trail, a 2 km beachfront trail. When I got back, I packed up my stuff, loaded up the car and headed to the Greenwich section of Prince Edward Island National Park. My chosen trail was the Greenwich Dunes Trail, a 4.8 km moderate hike.
Point Prim
According to Tourism PEI, One of the Island`s most overwhelmingly beautiful locales, Point Prim offers visitors an enlightening view into the region`s past. Bordered by the sea on all sides, the narrow peninsula is home to the Polly Cemetery. Named after the ship which brought the first Scottish settlers to the Island, the cemetery is the final resting place for many of these same settlers. Point Prim Lighthouse, perched on the outer-most tip of the peninsula, is not only the Island`s oldest lighthouse but also the only circular brick lighthouse in Canada.
Northumberland Provincial Park
Northumberland's convenient location near the Wood Islands Ferry terminal makes this a busy park. Many people choose to stay for a night or two at the beginning or end of their visit to PEI. Cliff swallows burrowing nests along the shore are of special interest. Children's programs and supervised swimming are available.
Nearby attractions include the Northumberland Ferry, Rossignol Estate Winery, Cape Bear Lighthouse & Marconi Museum, and the Plough the Waves Lighthouse & Interpretive Centre. ( Source: Tourism PEI)
Cape Bear Lighthouse and Marconi Museum
The Cape Bear lighthouse was built in 1881 and houses one of seven Marconi Wireless Stations established by Marine and Fisheries in 1905-06. It was here that Thomas Bartlett heard the first distress signal from the Titanic as it sank off Newfoundland. Today, a museum stands on the original site of the Marconi Station. (Tourism PEI)
Kings Castle Provincial Park
Kids' Paradise! Located in Gladstone, on Route 348, 3 km east of Murray River. Kings Castle, a day use park, is a magical place displaying a family of favorite storybook characters in statue form. Kings Castle is a terrific family location, with open areas for games, and the children will enjoy the variety of equipment and forts. Here you will find a riverfront beach with a beautiful view of Murray River.
Kings Castle consists of a beach area, change rooms and a two-sided kitchen shelter — great for family or group barbecues. Pets are permitted on leash.
Sally's Beach Provincial Park
Located in Spry Point off Route 310, Sally's Beach Provincial Park has an unsupervised beach, washrooms and change facilities.
East Point Lighthouse
The East Point Lighthouse was constructed in 1866-1867 as a result of petitions from local residents which were supported by the Lieutenant-Governor of PEI. This lighthouse is Canada's only confederation lighthouse and it was the last lighthouse erected before the Island joined Confederation in 1873.
Red Point Provincial Park
With its beautiful beach and supervised swimming, Red Point campground is very popular with families. There are often organized activities for children and special events for the whole family. Red Point is located approximately 10 minutes from Souris where you'll find gas, food, restaurants, a hospital, hotels, exercise facilities, a liquor store, souvenir shops, a tourist information center and the terminal for the Magdalen Island ferry service. This is also where I'll be spending the night!
Souris
Situated amidst an absolutely stunning seascape vista which provides visitors with an array of impressive views, Souris serves as the economic hub of Eastern Kings County. Heavily dependant on both land and sea which aids in preserving the rich farming and fishing traditions of the region, Souris residents maintain a very comfortable rural lifestyle that serves to enhance the community's charm. The Basin Head Fisheries Museum gives visitors a glimpse into the region's history while the neighboring white sand beach is one of the province`s finest. As well, numerous retail stores, restaurants and public services are available in town while a ferry service offers transportation to Les Iles-de-la-Madeleine. (Tourism PEI)
Souris Beach Provincial Park
Souris Beach Provincial Park is a day-use provincial park located near the town of Souris in eastern Prince Edward Island, Canada. The beach is very shallow, allowing visitors to walk several hundred feet from shore on an all sand bottom. The shallow water also results in the waters at this beach being warmer, as a result of warming by the sun, than other Island beaches where depths increase more quickly.
Unlike many beaches in eastern PEI, this beach has red sand, which is a result of the tidal current and erosion from the nearby red sandstone cliffs. Unfortunately, the beach has suffered from extreme erosion in recent years, as winter storms have obliterated the dune system, allowing tidal waters to further advance on the beach. (Wikipedia)
Another full day that ends with an amazing sunset. See you tomorrow!
Please follow and like us: