Five Days on Prince Edward Island – Day 4
Five Days on Prince Edward Island – Day 4
This is day 4 of my trip to Prince Edward Island. If you haven't already, check out Day 1,  Day 2, and Day 3! Today, I'll be driving clockwise along North Cape Coastal Drive. North Cape Coastal Drive offers 350 km of some of the most breathtaking vistas you've ever seen! Cruise through seaside fishing villages and learn about Acadian and Mi'kmaq cultures. (Tourism PEI)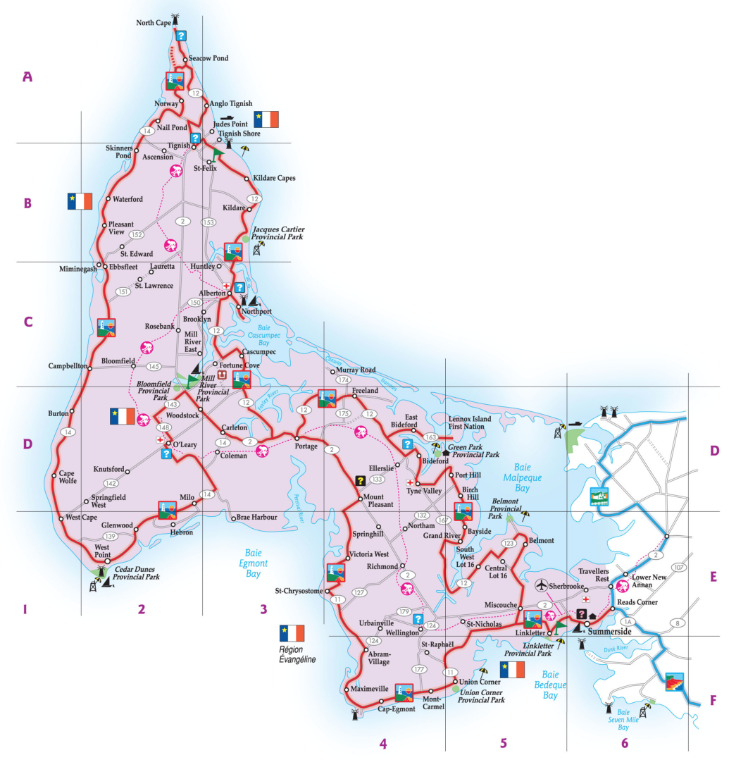 Day 3
I'm really not much of a camper. But I must admit that camping beachside, though chilly overnight in late June due to sea mist, was one of my better ideas. You just can get a view like this with any other type of accommodation! As usual, I was up with the sun for coffee and a walk on the beach. Sad to leave this unique spot, I packed up my gear and got on the road for more PEI awesomeness!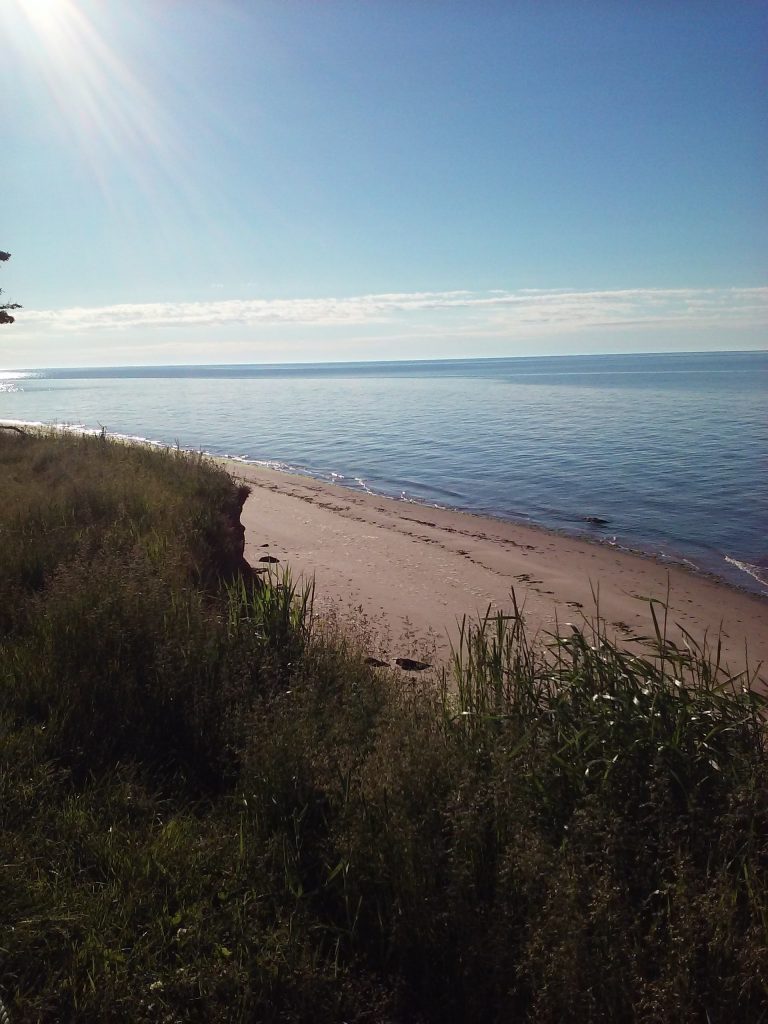 North Cape
First up was the North Cape Nature Trail (3.5 km), which would conveniently lead me to North Point Lightstation.  The trail is a linear boardwalk, starting at the North Cape Windmill Farm, following sheer cliffs of from 30 feet to 40 feet on one side, almost two km to the remains of an isolated rock column. Off the cliff side lies the endless seascape of the Gulf of St. Lawrence, and at certain points, the beach is accessible at low tide. The boardwalk readily accommodates wheelchairs, but it is not accessible to motorized vehicles, and bicycles are not welcomed. (Island Trails)
North Point Lightstation is located on a long, rocky reef, purported to be the longest in North America, which extends seaward from the northeast tip of Prince Edward Island for roughly 2.4 km (1.5 miles) and marks the dividing point between the Gulf of St. Lawrence and Northumberland Strait. Though the tower is not open to the public, tourists are still drawn to North Cape, where they can walk out on the reef at low tide, marvel at the wind turbines at the Atlantic Wind Test Site, or visit the gift shop, restaurant, and aquarium in the North Cape Interpretive Center. (Lighthouse Friends)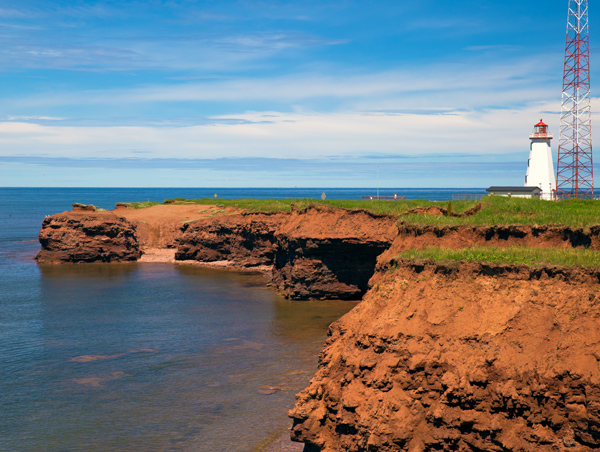 West Point Lighthouse
West Point Lighthouse, constructed in 1875, was the first of the second generation lighthouses on Prince Edward Island. The reconstructed gable-roofed lighthouse keeper's house with lean-to storage provides an example common among lighthouses of this style. It is 20.6 meters high.
Combining distinctive architecture, folklore, shipwrecks, and dramatic scenery on the western entrance of the Northumberland Strait, the West Point Lighthouse began a second career as a lighthouse museum, country inn, restaurant and craft shop in 1984. (Tourism PEI)
Tignish
Settled in 1799 by eight Acadian families and joined in 1811 by two Irish families, Tignish retains and celebrates its French/Irish roots and has since become a successful fishing and farming community and a service and commercial center serving the surrounding rural area. (Town of Tignish) The name "Tignish" is derived from the Mi'kmaq "Mtagunich", meaning "paddle". (Wikipedia)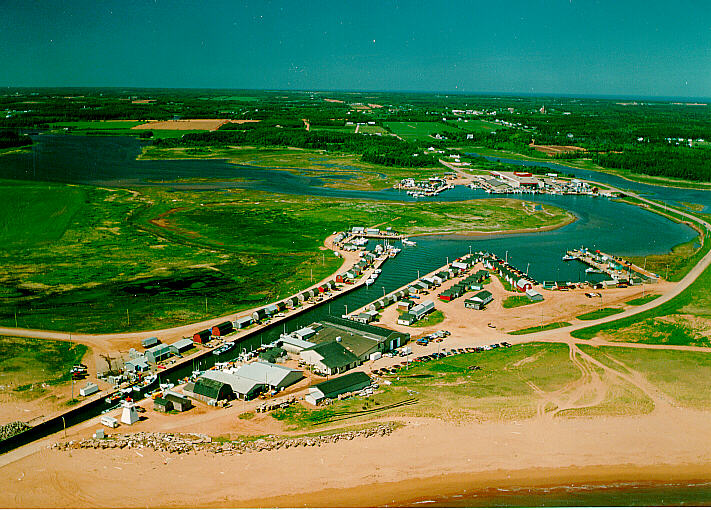 Tignish Run Lighthouse was located at the western side of the entrance to the Main Channel, cutting through a sandy beach at Jude's Point. It is a small square pyramidal wooden tower. The lantern deck is surmounted on the tower. It is supported by metal brackets and surrounded by a metal railing. The cast lantern has glass on all sides. It has had no light since it was decommissioned in 1997. (PEI Historical Society)
Jacques Cartier Provincial Park
The island's first European visitor came ashore in 1534 in the vicinity of this provincial park which bears his name, Jacques Cartier. He remarked that this was "the fairest land 'tis possible to see!" The park holds a celebration of this great discovery every July on Rediscovery Day. Jacques Cartier Provincial Park offers a wide range of activities for all ages. There is supervised swimming at the beautiful beach on the Gulf of St. Lawrence. (Tourism PEI)
This is where I'm camping tonight. Turns out I'm the ONLY tent camper at the campground. There is a handful of RVs, but they are in another part of the park. Park operators assured me that that they are on hand 24/7. Looks like I would not be disturbed.
Camping
My things were a little damp from last night's sea mist so I was able to dry them out in the sun. And to ensure I was nice and toasty tonight, I got creative with a dollar store shelter that I cut up to fit over my tent. The result wasn't half bad; it was nice and toasty inside. I took the opportunity to get a little laundry done while I was sunning myself on the beach. Hey, I had the place to myself! I had just folded my laundry and put all my things back in the tent or car when it started raining. I mean pouring.  So I heading into Alberton for a bite to eat.
Alberton
The Town of Alberton is located in Prince County on the northwest shore of the Island. It was incorporated in 1913 and has a population of just over 1,100 people. Alberton is known as the Heart of West Prince and has all the services a traveler may require including a 22-unit motel. In 1878 the Alberton Court House was built, which is now home to the Alberton Museum and Genealogy Centre. The building is a National Historic site and a Designated Provincial Historic site.
Just minutes from Alberton visitors will find the thriving fishing wharf at Northport Harbour. Northport is a lively place for tourists with a waterside hotel, restaurant, marina and gift shop. Watch for the amazing sight of a Giant Bluefin tuna being landed at the dock in season. (Tourism PEI)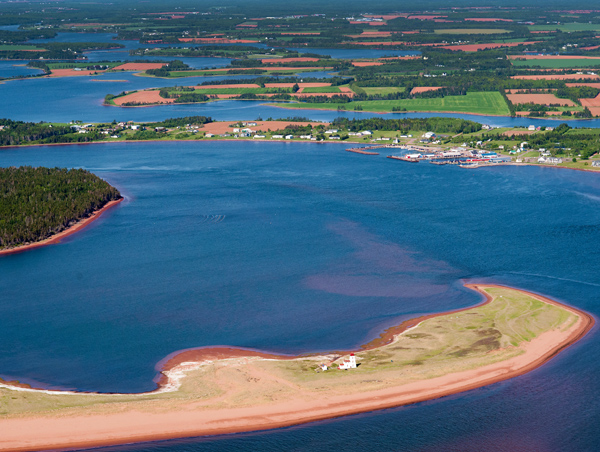 Ask An Islander
Here's a planning tip for your PEI trip, Ask an Islander! Got questions? Get expert advice. Just pop over to the website, ask your question and a live Islander will respond!
I had done my research and had settled on the Albert & Crown Pub & Eatery. The food was amazing!
Still Raining…
As I left the pub, it was still raining pretty hard. I went back to the campground to check on my tent. I was a little worried about the two inches that were left uncovered, which had to be situated on the side the rain was coming from. There was a small puddle forming inside, but the water hadn't touched any of my things. So I place my travel towel a few garbage bags; crisis was averted! I wasn't ready to turn in, so I went to the kitchen shelter to read and charge my devices. Between the rain, being alone and reading Cheryl Strayed's Wild, I was a little creeped out. But soon enough, the rain stopped and the skies started to clear, just in time. Goodnight!
Please follow and like us: